Sarah Charman, University of Portsmouth
In the aftermath of the terrorist incidents in London and Manchester in 2017, a number of police officers were heralded as heroes. But the police have also faced mounting criticism in recent years.
After the Leveson inquiry into press standards, a few police officers were jailed for selling information to newspapers. An ongoing major inquiry was launched in 2015 into the controversial activities of undercover police officers, while another inquiry reached the verdict in 2016 that a number of police failings contributed to the death of 96 Liverpool football fans at Hillsborough in 1989.
Research also tells two contrasting stories about the police. Statistics from the Crime Survey for England and Wales indicate an increasing number of people believe that their local police force is doing a good or excellent job. Yet, over the past 40 years, police researchers worldwide have regularly condemned police cultures for being defined by prejudice, discrimination and exclusion.
Starting out
For four years, I followed 24 new recruits to the police service, plus their tutors and mentors, to see what and who influenced them as they began settling into the job. I've recently published my research, which shows a significant change in the new recruits' attitudes and beliefs over the course of the first four years of their careers. It also shows evidence of what one new recruit said to me was a "#newbreed" of police officer.
The recruits' views on the role of the police shifted during their first four years. They moved away from thinking that "crime fighting" and "upholding the law" were the main roles of the police. Instead, their focus turned towards "public protection" and "safeguarding". One officer told me: "I can't tell you the last time I went to a crime," while another said "it's 30% crime, 70% social work". When asked what skills they needed to be police officers, they replied it was communication and empathy rather than authority and physical strength. These skills better suited what some saw as their role – "mobile marriage guidance counsellor", "Jeremy Kyle" or "glorified security guards".
As time wore on there was a belief among the new recruits that their frequently mentioned desire to "make a difference" was in jeopardy. They argued that their stated good intentions were affected by budgetary constraints and a lack of support from the media and public. Their disappointment grew, showing itself in increasing levels of cynicism.
The new police recruits valued one part of their work very positively – the solidarity between police officers. However, in a change from the findings of much previous research in this area, there were limits to that solidarity. Officers declared that they were less willing to protect fellow officers' wrongdoing. There was also an increasing intolerance of unacceptable policing behaviours, and they frequently mentioned the importance of performing their role with integrity.
These limits to solidarity might be explained by the recruits' relationships with their colleagues and how they saw the job of policing. They felt that their identity as a police officer did not define who they were. They also had less intense relationships with working colleagues than police officers did in the past – something confirmed by research in the US and Australia. Family members and friends outside of the police continued to be an important part of their lives and many of them tended to equate policing with a "job for now" rather than a "job for life".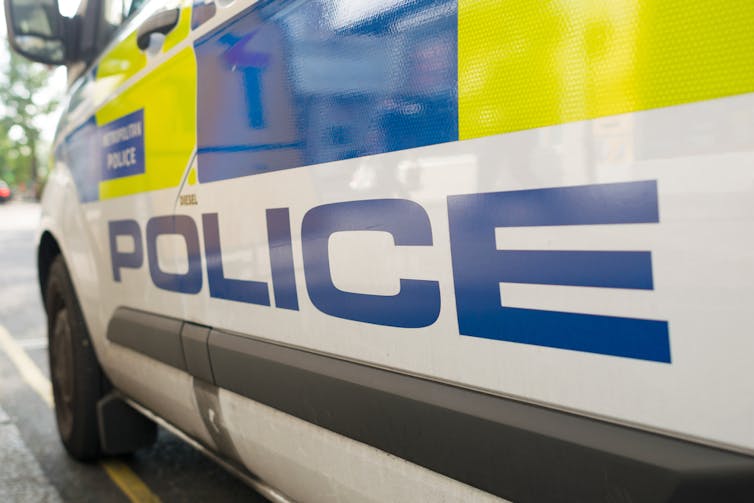 Compassion before silence
If we think of cultural knowledge within an organisation much as geologists think of rock formation, these contradictions begin to make more sense. Previous researchers on the police have discussed the inevitability that policing cultures, such as prejudice and discrimination, will keep reproducing themselves – a theory I have called the "cultural inheritance" model.
But I put forward an alternative argument. Drawing upon the work of the French sociologist Pierre Bourdieu, characteristics such as cynicism or compassion can instead be seen as individual and independent layers of policing practices. These layers, which become apparent among the new police recruits, add to the overall picture of policing cultures in what I call the "cultural sedimentation" model. The weight of the top layers will compress and eventually extinguish the bottom layers. While newer characteristics such as compassion do not immediately replace the older characteristics, such as the code of silence, they may gradually diminish their importance.

Noticeable changes to policing cultures will therefore be slow and incremental but change is occurring nonetheless and there is a new story to be told. The viral images of a police officer dancing at the One Love concert in Manchester in 2017 may be a sign that this new story is already starting to write itself.
Sarah Charman, Reader in Criminology, University of Portsmouth
This article was originally published on The Conversation. Read the original article.